Tuesday, January 23, 2007
Glowy Things and Shiny Things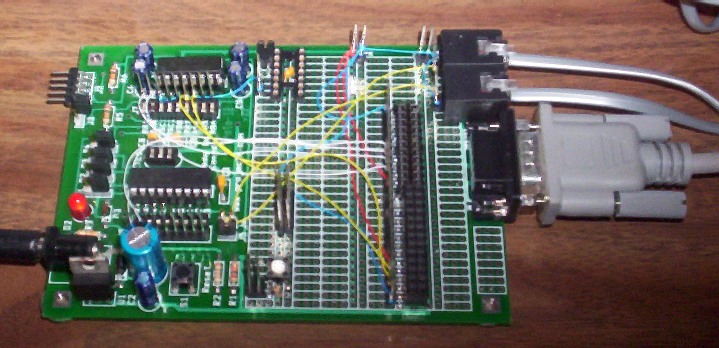 I've been considering the design of the motor modules. The serial ring idea is really neat, especially when each chip has it's own built-in UART, but I didn't like the connections... they're hard to key, require different kinds of wire(thin for signal, heavy for power), and besides, mixing power and signal feels like tempting fate. I've fried plenty of electronics already. So I split the power and serial signals.
For power, I'm going to use standard PC power supply MOLEX connectors. I've scrounged up an ancient AT power supply -- no hacking at all to get it running standalone since it's not ATX. Signal was a little more tricky, but it came to me while staring at a pile of dead modems -- I could just use their phone jacks and standard 2-conductor phone cable. Easy to get, come in pairs, cheap, keyed, with cables easily made or available premade anywhere. The picture depicts the signal board plugged into itself, echoing serial signals back to the computer.
Here's a tip for removing through-hole components from scrap circuit boards -- if you don't care if the board survives, don't bother with desoldering tools, use a blowtorch. Clamp the board to something metal, melt the solder, and rip the component right out with pliers. It's much more reliable than trying to suck or wick the solder out. But do it someplace with good ventilation, this can be smoky.
As for shiny things, I've picked up ten of
these puppies
from ebay -- 1.6A 5V 1.8deg/step stepper-driven linear actuators with 300lbs of force. These should have much less problem driving my syringes than my silly tiny steppers driving their homemade off-center linear threads.
Comments:
Wow, nice motors from eBay!!
I was ashamed to mention I use the blowtorch method. But now I know I'm not alone! ;) Apply heat evenly, pull evenly, and most of all, do it fast. :)
Post a Comment
Links to this post:
<< Home