Sunday, September 17, 2006
Ugly Stewart Platform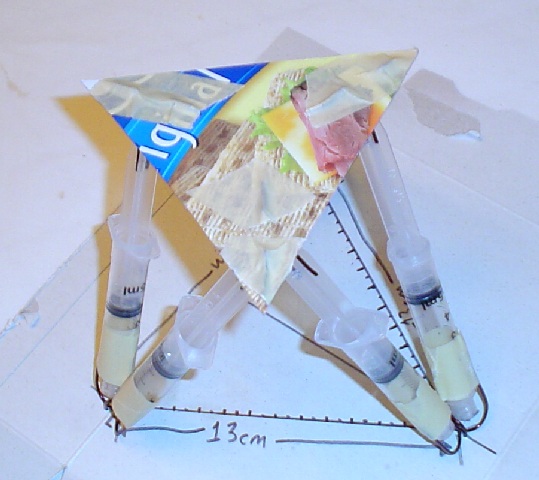 It is built from six 5cc syringes, on platforms of cardboard, attached to both platforms with "universal joints" made of thick copper wire loops. The large platform is a 13cm equilateral triangle, the small platform is a 7cm equilateral triangle.
Needless to say I do not expect to build a functioning reprap upon this. This is a mock-up to see if I had anything close to an understanding of what I was trying to build. For something made of cardboard and held together with wire and masking tape, it is impressively stable! Precisely what I'd hoped for from a Stewart Platform.
The real version will be made with 12cc syringes, on metal or wooden platforms, held together with magnetic ball-and-socket joints. I already have all the freakishly strong magnets I'll need for that, obtained from dead hard drives.
More pictures
here
and
here
.
Comments:
The 12cc syringes come pre-calibrated, with graduations of millimeters. And, while it takes calculus to go backwards from lengths to coordinates, all that is needed to go from coordinates to lengths is simple trigonometry.
Six opposing syringes will be driven by six stepper motors. One of those was one of the things I'd hoped to build this weekend but didn't have time for for various reasons. Electronic complexity will be the price I pay for building a platform without rigid axis systems, I guess.
Post a Comment
Links to this post:
<< Home